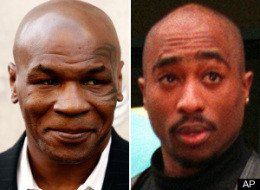 NEW YORK — When Mike Tyson looks back on his friendship with Tupac Shakur, he thinks about the rapper's big heart, explosive anger – and the one regret he has about their relationship.
"He always wanted me to smoke weed with him, and I never did it, and I wish I did," Tyson said in a recent phone interview.
Tyson said he declined because he was a closet smoker and didn't want it to get out that he smoked the drug. Now, when he looks back on the lost opportunity, he says: "That's my biggest regret."
Tyson's friendship with Shakur is the subject of a new documentary, "One Night in Vegas: Tyson & Tupac," which airs Tuesday on ESPN (8 p.m. EDT).
The 25-year-old rapper was shot after a Tyson fight in Las Vegas on Sept. 7, 1996; he died six days later.
"He didn't last long, but the time he did last, every minute, every tenth of a moment was explosive," Tyson said.
The documentary chronicles their relationship, which Tyson said took hold when he was imprisoned in 1992 for rape.
"Every day, he would call me or get a chance to call me or send a message," said Tyson. "He would get word to me in prison."
By the time Tyson was released in 1995, Shakur would be jailed for sex abuse; he was released on bond later that year. When he got out of prison, Tyson and Shakur's friendship deepened. Both found it difficult to find people who truly cared for them, Tyson said.